The Map is a piece of an intergalactic map that was hidden deep in the tunnels that are under the University. They list 9 planets, including Earth. They mostly are in a different language that has let to be learned. It is being held by Zack Martin Currently.

Mr. Ronald Reg knows about it, and is eager to get it.
In the episode
The Map
, Zack was searching deeper in the tunnels, looking for clues about the
The Society of Tipton
. In what once was a classroom, Zack found a box, and with the key he found in
The Tunnels Underneath
, he opened it , revealing the map. He is currently studying it, something he's rarely if never done in the past. He thinks if he can figure this out, he can get Cody out of The Society of Tipton.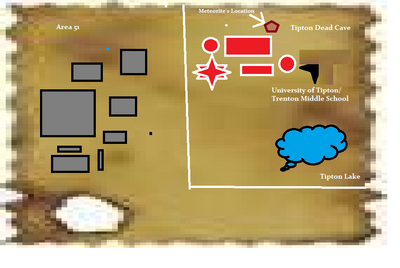 It also has passageways that end at Earth and another planet at the bottom.
In Meteorite Trouble pt. 1, Ronald gains another part of the intergalactic map, this time revealing Area 51, and the location of the meteorite, near the University. It is also revealed there is a lake nearby the school.